After creating incredible waves for PC, PLAYERUNKNOWN'S BATTLEGROUNDS has finally found a way to release PUBG for Xbox One platform. From the makers of the best-selling PC phenomenon, PLAYERUNKNOWN'S BATTLEGROUNDS now has been playable on Xbox One. Once after hearing that PUBG PC version has been sold over 20 million copies at the beginning, Microsoft Corp. has collaborated to bring the high-profile game to its flagship console by recruiting development help from The Coalition, the makers of Gears of War 4.
After making a lot of efforts, Microsoft has made a way to provide its users the most famous battle royal game- PLAYERUNKNOWN'S BATTLEGROUNDS. That's great! But, game development work is still continued, and it may take some time. But, you can get the PUBG Xbox One Preview copy from the Amazon store to enjoy the game now. The physical copy isn't available yet. You will have to wait a little longer.  Well, if you play on Xbox One X, then it will offer added visual depth.
What's PUBG Xbox One Price?
While talking of the price of PUBG Xbox One preview game, then let me tell you that you get PUBG Xbox One preview version from the Amazon at the rate of $25.45. Well, you can directly but from the Microsoft Store online at $29.99 and download the 10.53GB game to your console. So, it's on you whether you want to buy PUBG from Amazon or Microsoft Store.
PUBG Xbox One Gameplay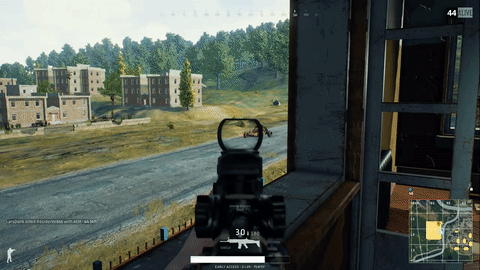 From the makers of the best-selling PC phenomenon, PLAYERUNKNOWN'S BATTLEGROUNDS drops players into a competitive survival battle where you'll engage in a heart-racing fight to be the last player left alive. Loot supplies, find weapons, and gear-up to take on the competition. Emerge the lone survivor in a thrilling game experience full of unexpected, adrenaline-pumping moments. Defeat every player on the map to earn bragging rights as the last player left standing in the ultimate life and death fight.
How to Play PUBG on Xbox One: Here's The Full Control Guide
Here's some  image of gamepad controller which will help you to play the game efficiently:
Basic Control for PUBG on Xbox One
How to Aim in PUBG on Xbox One
How to Control Vehicle in PUBG on Xbox One
How to Swim in PUBG on Xbox One
How To Manage Map in PUBG Xbox One
How to Manage Inventory in PUBG Xbox One
PUBG Xbox One Maps
Likewise PC version of the game, there is total three map available on PUBG Xbox one including the new PUBG map-Sanhok. If you want to know more about loot, vehicle, boats, garages, and more then you can go to the pubgmap to know everything about three maps.
PUBG Xbox One Update 20 Patch Notes highlights
Added the Beryl M762, which is a new versatile Assault Rifle which spawns on Erangel, Miramar, and Sanhok.
Beryl M762 uses 7.62mm ammunition and can load up to 30 rounds (40 with an extended magazine)
The Beryl has upper and lower rails, allowing for scopes and a grip.
It has lower per bullet damage than the AKM, but a higher firing rate, meaning higher DPS if you can control the kick.
Added a new two-seat vehicle, the Scooter, which is exclusive to Sanhok
The scooter replaces motorbikes on Sanhok
Compared to the current motorbike, the Scooter has lower speed and an increased turning circle, but the same HP.
There has been more tweaks in Gameplay, UI/UX, anti-cheating & reporting, custom match, skin & items, and bug fixes.
PUBG: Xbox vs. PC
Since PUBG on Xbox One is available in Preview, you will feel like playing the low graphics game. All looks very grimy with choppy framerate. Well, sometime all objects couldn't load till you land over there. Furthermore, you won't see rock while driving to the safe zone. The Xbox One X only runs the game at 30 frames per second, not the 60 FPS you'd see on PC. Wish we will see smoothness and best graphics in the final version of the game.
PUBG Xbox One Release Date [Full Game]
Well, there isn't any confirmation from either Microsoft or PUBG team regarding the release of a final stable version of PLAYERUNKNOWN'S BATTLEGROUNDS for the Xbox One platform. Since that, you can enjoy the preview version of the game to be the expert in a game in advance so that once the final version arrives you will be ready to kill everyone else to be the last man standing. If you have started playing PUBG on Xbox One, then we will feel happy to get your feedback.